Wall & Roof Cladding and Sheeting
NSS works closely in partnership with industrial and commercial roofing and cladding contractors to provide efficient and safe access for materials and workers. We have extensive experience in dealing with the complexities arising on major construction projects.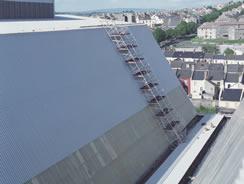 We designed an inclined tower to provide access for re-cladding and repairing the frigate complex roof at Devonport naval dockyard, Plymouth . The system is identical to the one installed by NSS when the building was built in 1971.
Read more about Devonport naval dockyard, Plymouth
---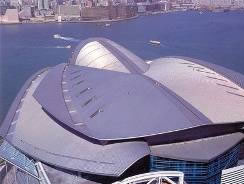 We designed a 2 tonne winched lifting system based at roof level to raise all the cladding onto the highly complex roof of the Hong Kong Conference and Exhibition Centre.